"TPH Academy Denver has a dedicated team that fully supports our student-athletes on their journey to success. We strive to be excellent mentors and role models, empowering each student-athlete with the tools needed to discover new levels of potential and reach his or her goals."
- Jay Sprague, Director & Head of Hockey, TPH Denver
our
HOLISTIC
FLEXIBLE
BLENDED
Approach
At TPH Academy Denver our student-athletes Study, Train and Play every day. Each week, a typical schedule includes the following breakdown:
From public speaking contests to finance club, we are focused on providing our student-athletes the opportunities that fit their interests and provide them the opportunity to learn valuable life skills.
COMMUNITY SERVICE
Part of attending TPH Academy is ensuring our student-athletes are connected with their communities and understand the value of providing their time and support. All of our locations take part in community service projects from raking leaves across the neighborhood to assisting at soup kitchens.
---
GUEST SPEAKERS
Our guest speakers bring new perspectives and ample experience from their trade and life. Our student-athletes have been fortunate enough to have been visited by guests including current professional athletes, coaches, and referees. Our guests are not just limited to the industry of sport but include business executives, marketing specialists, psychologists, and physical therapy experts, among others.
---
FIELD TRIPS
We make a conscious effort to make sure our student-athletes get exposure to many different experiences. Previous field trips include museums, professional sports facilities, college campuses, and more.
WHY FAMILIES CHOOSE TPH ACADEMY DENVER
ICE HOCKEY
HOCKEY AT TPH DENVER
Families choose TPH Academy Denver because hockey has been our primary vehicle for positively impacting the lives of our student-athletes since 2001. We pride ourselves on taking a holistic approach, one that emphasizes the development of the individual in four ways: (1) as a player within a team setting, (2) as an athlete, dedicated to reaching his/her physical potential, (3) as a student, working to achieve his/her academic goals, and most importantly, (4) as a person, striving to win the ultimate game, and that's the game of life.
FIGURE SKATING
FIGURE SKATING AT TPH DENVER
Figure skaters choose TPH Denver because of our individualized and customized student-athlete schedule. Our Douglas County School District institution is fully NCAA accredited and provides a flexible, hybrid learning experience suited to fit the needs of aspiring elite athletes. Our figure skaters experience professional coaching in strength & conditioning, yoga, and ballet. TPH Academy Denver Figure Skating includes mentorship and leadership programs, community service initiatives guest speakers, athletic testing, and more!
LACROSSE
LACROSSE AT TPH DENVER
Families choose Lacrosse at TPH Academy Denver because of our individualized, on-field training, advanced skill development, and professional coaching staff. Our academic programs are fully NCAA and CDE-accredited and incorporate a hybrid learning experience while working with the Douglas County School District. We also work closely with our community to build partnerships for community service projects and growth and mentorship opportunities.
Working with Edmentum, the official learning partner of TPH, we are able to offer a completely customized platform, where individuals study online, with certified instructors. We provide a comprehensive program that includes academic coaching, best-in-class academics & a learning community that is focused on development.
The Academy blended learning environment combines an online curriculum with on-site infrastructure and academic support. Academic leaders are in the classroom working with students to ensure a positive learning environment, accountability, a personalized structure, and accelerated learning programs, as they train for their sport.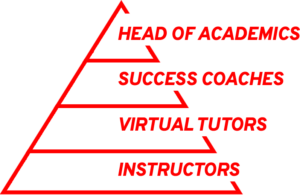 Through our award-winning educational partner, Edmentum, our academy course library provides student-athletes with access to NCAA-approved Core classes, a large collection of AP offerings, and 80+ custom electives, which include foreign languages, arts, and more. Our academic partners are all Cognia accredited and all graduating student-athletes will receive a private/public school diploma, issued by our state partner. Students not only advance their education, but learn organization, study skills, and how to adapt their own learning style.
+ Individually Tailored Courseware
+AP, Honors & Foreign Language Courses
80+ Custom Elective Courses
+  Credit for Sport-Specific Training
TPH Academy Denver is located in the South Suburban Sports Complex in Littleton, Co. As education and athletic training continue to evolve, providing students-athletes with the best possible learning and development environment is crucial. Working with the facility and Steelcase, we have designed spaces that will provide all types of learners with a comfortable and productive space. Our space has everything our student-athletes have everything they need to truly take ownership of their development including:
BUILDING THE TPH
ATHLETE
PERSON
STUDENT
The TPH Academy training program is designed for aspiring elite student-athletes who are willing to invest their time and effort into personal growth. At TPH we recognize that individual skill focus often gets neglected due to busy competition schedules, lack of facility accessibility after academic hours, and team-centric coaching. TPH is focused on long-term student-athlete development by providing platforms that allow each individual to discover new levels of potential. 
Frequently Asked Questions
While we are one team, TPH Academy is not sports a team. We are an academy that allows you to focus on your individual skills. Additionally, you can still play for your current team. This makes for an awesome training environment where our student-athletes get to build a community with like-minded student-athletes.
At TPH Academy, each student-athlete learns from certified Teachers through our customizable virtual platform, Edmentum, with 24/7 access to virtual Tutors. Our on-site Director of Academics and Success Coach(es) are additional resources as they cultivate an environment conducive to learning. These multiple layers of support ensure that your student-athlete receives a personalized academic plan; preparing them for the game of life.
Our student-athletes train four days a week in the gym on-site with our coaches.
DID YOU KNOW: student-athletes can receive physical education credit for the training.
They are certainly welcome to, but we do offer a meal plan working with the restaurant, located inside the facility, to offer healthy and delicious options at an affordable price.
This is one of the primary benefits of TPH Academy. The traditional system is not conducive to the lifestyle of the aspiring elite student-athlete. We are very flexible with our attendance policy because we do understand the travel that sports require and the toll that a season can take on a student-athlete. The beauty of our platform is that we can operate virtually. Need a recovery day? Stay home, you can do your course work from home, our staff can additionally send you a home workout. The biggest factor is that we believe our student-athletes get the most out of their experience by attending on-site, but we understand that may not always be possible.
The goal of our mentorship program is to educate our student-athletes on "the process" of becoming elite. Part of that is through the mentorship program which includes Coach FA's Mentorship Program, community service, field trips, and guest speakers.
We believe TPH Academy provides more balance as our student-athletes finish a day at the Academy, attend their club's practice, and then are free the rest of the day. We believe our platform gives our student-athletes more time to spend as they wish away from the Academy. Additionally we require our student-athletes to fill out daily surveys through Kinduct that help our staff understand the holistic state of our student-athletes. These surveys track sleep, nutrition, injuries, and more to assist us in ensuring we know how to balance their workload.
TPH Academy can provide support for IEP's and 504's. We have built our centers with learning environments that help all types of learners and set up our student-athletes for success. However, students will have to complete a determination meeting with our education partner to ensure we can meet all the needs of the student.
Connect with our team and get to know how TPH Academy can help you or your student-athlete take the next step in academics, athletics, and life.