"Student-athletes who strive to be the best versions of themselves require care, coaching, and customization, not just on the ice, but off the ice as well. Whether it's the high volume of quality training hours, the flexible, individualized learning approach taken in the classroom, or the resources TPH makes available to aid in student-athlete wellness, this model is perfect for our Region. Student-athletes who attend TPH Academy will put themselves in an advantageous position to be successful in hockey, school, and life. I can't wait to connect with families to show them how specifically that can happen if they attend TPH Academy."
- Brandon Merli, Director and Head of Hockey, TPH Academy Waterloo Region
our
HOLISTIC
FLEXIBLE
BLENDED
Approach
At TPH Academy Waterloo Region our student-athletes Study, Train and Play every day. Each week, a typical schedule includes the following breakdown:
From public speaking contests to finance club, we are focused on providing our student-athletes the opportunities that fit their interests and provide them the opportunity to learn valuable life skills.
COMMUNITY SERVICE
Part of attending TPH Academy is ensuring our student-athletes are connected with their communities and understand the value of providing their time and support. All of our locations take part in community service projects from raking leaves across the neighborhood to assisting at soup kitchens.
---
GUEST SPEAKERS
Our guest speakers bring new perspectives and ample experience from their trade and life. Our student-athletes have been fortunate enough to have been visited by guests including current professional athletes, coaches, and referees. Our guests are not just limited to the industry of sport but include business executives, marketing specialists, psychologists, and physical therapy experts, among others.
---
FIELD TRIPS
We make a conscious effort to make sure our student-athletes get exposure to many different experiences. Previous field trips include museums, professional sports facilities, college campuses, and more.
Student-athletes will earn their academic credentials through Blyth Academy's virtual learning platform, with in-person, on-site academic support and facilitation from TPH Academy's dedicated and trained staff. Courseware can be completed at any time, from any laptop, tablet, or mobile device, whether in the classroom or on the go for sports travel. With a comprehensive course catalogue including university prep courses, foreign languages and a wide range of elective course offerings, TPH Academy Waterloo Region student-athletes are well-positioned to receive a world-class, Ontario-certified education all while pursuing their athletic goals. 
The Academy blended learning environment combines an online curriculum with on-site infrastructure and academic support. Academic leaders are in the classroom working with students to ensure a positive learning environment, accountability, a personalized structure, and accelerated learning programs, as they train for their sport.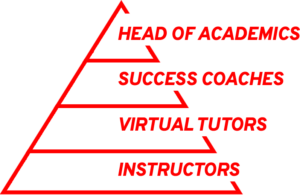 Courses taught by certified, focused instructors, available to student-athletes live and during office hours.
Course progress can be reviewed by academic leader and parent(s) in real time. Support available for student-athletes with IEP's and 504 plans. Prepare our student-athletes to become independent, self-starting college freshmen.
TPH Academy Waterloo Region student-athletes will enjoy the unique opportunity of on-ice training at The Aud and utilizing the Kitchener Rangers' fitness facilities. In an environment built and experience facilitated for holistic development and advancement, TPH Academy Waterloo Region student-athletes will be inspired, encouraged, and motivated to discover newfound levels of potential, taking ownership of their development on the ice, in the classroom, and in life.
TPH Academy is thrilled to announce that TPH Detroit alumnus Kirsten Simms has been selected to represent the United States in the upcoming USA Hockey…
Read More
Connect with our team and learn how TPH Academy can help you or your student-athlete take the next step in academics, athletics, and life.
Frequently Asked Questions
While we are one team, TPH Academy is not sports a team. We are an academy that allows you to focus on your individual skills. Additionally, you can still play for your current team. This makes for an awesome training environment where our student-athletes get to build a community with like-minded student-athletes.
At TPH Academy, each student-athlete learns from certified Teachers through our customizable virtual platform, Edmentum, with 24/7 access to virtual Tutors. Our on-site Director of Academics and Success Coach(es) are additional resources as they cultivate an environment conducive to learning. These multiple layers of support ensure that your student-athlete receives a personalized academic plan; preparing them for the game of life.
Our student-athletes train four days a week in the gym on-site with our coaches.
DID YOU KNOW: student-athletes can receive physical education credit for the training.
They are certainly welcome to, but we do offer a meal plan working with the restaurant, located inside the facility, to offer healthy and delicious options at an affordable price.
This is one of the primary benefits of TPH Academy. The traditional system is not conducive to the lifestyle of the aspiring elite student-athlete. We are very flexible with our attendance policy because we do understand the travel that sports require and the toll that a season can take on a student-athlete. The beauty of our platform is that we can operate virtually. Need a recovery day? Stay home, you can do your course work from home, our staff can additionally send you a home workout. The biggest factor is that we believe our student-athletes get the most out of their experience by attending on-site, but we understand that may not always be possible.
The goal of our mentorship program is to educate our student-athletes on "the process" of becoming elite. Part of that is through the mentorship program which includes Coach FA's Mentorship Program, community service, field trips, and guest speakers.
We believe TPH Academy provides more balance as our student-athletes finish a day at the Academy, attend their club's practice, and then are free the rest of the day. We believe our platform gives our student-athletes more time to spend as they wish away from the Academy. Additionally we require our student-athletes to fill out daily surveys through Kinduct that help our staff understand the holistic state of our student-athletes. These surveys track sleep, nutrition, injuries, and more to assist us in ensuring we know how to balance their workload.
TPH Academy can provide support for IEP's and 504's. We have built our centers with learning environments that help all types of learners and set up our student-athletes for success. However, students will have to complete a determination meeting with our education partner to ensure we can meet all the needs of the student.