The Athletic International Sports Academy
"AISA is dedicated to providing support and guidance to young student-athletes as they strive to reach their full potential, both on and off the field. Much in line with TPH Academy, our focus is on providing a well-rounded experience that includes opportunities to participate in national and international competitions, as well as access to resources and tools that will help them succeed academically and professionally. We are excited to partner with TPH and utilize their athlete-focused academic expertise and platforms for our student-athletes."
- La Donna Hines CEO, The Athletic International Sports Academy
STUDY
Academic support and facilitation are provided in partnership with Edmentum and TPH Academy.
TRAIN
Holistic strength and conditioning provided by The Athletic International Sports Academy. 
PLAY
Sport-specific training provided by The Athletic International Sports Academy.
Working with local academic support, we are able to offer a completely customized platform for each student-athlete. This flexible, mastery-based education program is delivered in a blended learning environment, one that combines distance learning with in-person, on-site academic support and facilitation. We provide a comprehensive program that includes academic coaching, best-in-class academics & a learning community that is focused on development.
The Academy blended learning environment combines an online curriculum with on-site infrastructure and academic support. Academic leaders are in the classroom working with students to ensure a positive learning environment, accountability, a personalized structure, and accelerated learning programs, as they train for their sport.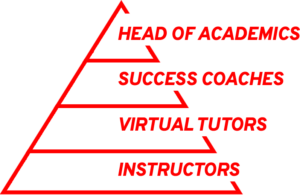 Our Academics include Ontario certified and NCAA-accredited courseware that can be completed 24/7, from any laptop, tablet or mobile device, as long as a high-speed data or internet connection is present
Our academic partners are all Cognia accredited and all graduating student-athletes will receive a private/public school diploma, issued by our state partner. Students not only advance their education, but learn organization, study skills, and how to adapt their own learning style.
+ Individually Tailored Courseware
+AP, Honors & Foreign Language Courses
80+ Custom Elective Courses
+  Credit for Sport-Specific Training
DESIGNED FOR ELITE PERFORMANCE
Connect with our team and learn how TPH Academy can help you or your student-athlete take the next step in academics, athletics, and life.