A Passion Project: More Than Hockey
February 23, 2022
/
/
Comments Off

on A Passion Project: More Than Hockey
TPH Alum, Robby Murray launches new entrepreneurial project
---
When he stepped away from the game of hockey, TPH alum Robby Murray knew that he needed to find his next challenge. The nineteen-year-old had spent five years studying at the Nashville Center of Excellence while competing for the TPH Thunder and the Nashville Jr. Predators. After years of studying and training at the highest level, Robby was inspired to create a brand that reflected his experiences and values. The hockey player turned entrepreneur recently launched WRDS, a clothing brand that was built to inspire others to remain committed to learning, training, and pushing the boundaries of what they're capable of.
"I had to find what was next for me and figure out who I want to be outside of hockey," Robby said. "I wanted to create more than just another clothing line, I wanted to build something that would inspire people to continue learning. WRDS is built on many of my values and it keeps me dedicated to bettering myself." The young entrepreneur has fully devoted his time towards learning how to run a business, stating that he has found fulfillment in learning everything from how to write a business plan and marketing strategy, to negotiating with manufacturers and filing taxes.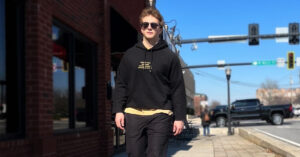 Robby credits his time at TPH for developing a variety of skills that have translated to the business world, including his work ethic, competitive drive, and networking abilities. "The relationships I built through TPH were monumental in getting WRDS off the ground. When I came up with the idea, the first people I told were my TPH teammates."
"We couldn't be more proud of Robby," mentioned Pat O'Neil, Executive Director of TPH Southeast. "He's a perfect example of how the lessons learned at TPH can be translated to life after hockey, and we're thrilled to see that he's pursuing his newfound passion off of the ice. Our entire team is rooting for him and we can't wait to see where this endeavor leads him."
The unique NCAA accredited blended learning model develops student-athletes into critical thinkers and problem solvers, and Robby is a testament to how the "TPH Way" is a stepping stone for winning in the ultimate game: the game of life.
Whether on the ice or off, move the puck on your student-athlete's success by registering for the upcoming National Virtual Open House as we offer a better way to academic and athletic excellence!