Bringing the Game to its Roots
March 10, 2022
/
/
Comments Off

on Bringing the Game to its Roots
TPH Center of Excellence Hosts 1st Annual Colorado Winter Classic
---
Over 70 student-athletes from TPH Center of Excellence Denver and Superior took to the pond this past January to compete in the first annual TPH Colorado Winter Classic. The tournament was a joint venture between the two Center of Excellence locations and was developed to allow TPH student-athletes to experience the game of hockey how it was meant to be played: outside. 
With fun in mind, the TPH Winter Classic allowed the student-athletes to take what they have already learned and apply it to a free flowing version of the game. Memories were forged that will last a lifetime as the student-athletes skated around the frozen surface of Lake Evergreen. As Lester Patrick stated in 1950, "The foundation of hockey isn't really hockey at all. It's shinny, a wild melee of kids batting a puck around, with no rules, no organization."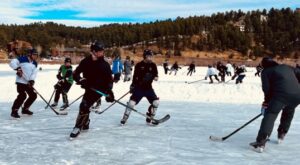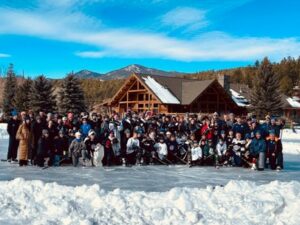 But this was no ordinary game of shinny. There was no blindfolded stick shuffling, no harsh ice conditions, and no rushing to get home before the streetlights came on. This was a flawlessly executed round-robin style tournament that took place on 15 of the most well manicured mini rinks that Colorado had to offer. 
In order to get the full pond hockey experience, student-athletes were challenged to play with teammates they had never met before. Teams were based on age, and each roster featured a mix of student-athletes from both Denver and Superior. Over the course of the day, family members and Center of Excellence staff cheered with each team competing in 6 games.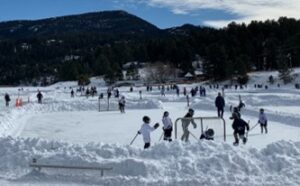 The priority of the TPH Colorado Winter Classic was focused on having fun and providing a unique experience for everyone in attendance. "This was an excellent opportunity to bring the TPH family and the Colorado hockey families together," mentioned Jordan Pietrus, Vice President of TPH Colorado. "This was all about having some unstructured fun, getting exercise, and enjoying the sunshine and fresh air. We're thrilled to have been able to bring the game back to its roots and host this amazing tournament for our student-athletes." 
Take the next step and register for the upcoming National Virtual Open House; discovering new levels of potential for your student-athlete at a Center of Excellence near you!