Fuel Your Game: TPH Partners With On Your Mark Nutrition
June 14, 2022
/
/
Comments Off

on Fuel Your Game: TPH Partners With On Your Mark Nutrition
TPH Center of Excellence announces the launch of TPH Nutrition powered by On Your Mark Nutrition, a sport-specific program designed to fuel elite athletes; optimizing their performance, recovery and overall health. TPH serves student-athletes across 15 locations through its prospect programs and 'Study. Train. Play.' academy-style Center of Excellence model; advancing – in and beyond the game – the next generation of impact players.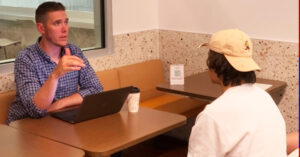 On Your Mark Nutrition, led by Bryan Snyder, has guided NHL, NFL, NBA and MLB athletes in achieving their nutrition goals through personalized plans; honing their hydration, reducing injuries and enhancing performance. Additionally, Snyder is a proven leader in sports nutrition with 14+ years of experience, is a registered dietitian with Academy of Nutrition & Dietetics and an active member of the Collegiate & Professional Sports Dietitian Association. 
Over the past 5 years, Bryan has shifted gears by working with student-athletes and their parents; aiding them in strengthening their nutrition endeavors. Developing innovative solutions to keep TPH Center of Excellence student-athletes alert in the classroom while maximizing their athletic performance is what Snyder values and is his motivator. Together, TPH and On Your Mark Nutrition have developed a unique opportunity that eliminates the guesswork from refining nutrition efforts.
Alan Keeso, TPH CEO, mentioned "At TPH we strive to lead the world in the holistic development of student-athletes, and we know that proper nutrition is one of the most critical, yet often overlooked, components. Bryan Snyder is one of the foremost leaders in the Sports Dietitian industry, working directly with professional teams and athletes in the NHL, NFL, NBA and MLB, as well as aspiring elite student-athletes. What impresses us most about Bryan however, is his passion for investing in and teaching each and every athlete and family he works with. We believe that with the addition of TPH Nutrition powered by On Your Mark Nutrition, athletes and families will not only be learning how to perform better in the present to achieve their goals, but these athletes will also be building lifelong habits that will impact the long term health of not only themselves, but also their families, for years to come". 
Additionally, Bryan Snyder of On Your Mark Nutrition said "I have met with hundreds of youth athletes and their families who hit a point in their development, where they find it tough to keep weight on, stay healthy, and to be able to fully maximize their performance. TPH genuinely cares about your kids and is dedicated to building the best team around them to help maximize their growth and development and give them the best resources possible to be successful. Having the opportunity to be a small part of a world class organization like TPH is exciting and I look forward to being able to be a resource for your family in an effort to keep them healthy and help them reach their full potential from a health and wellness perspective". 
Furthermore, TPH Nutrition powered by On Your Mark Nutrition provides committed student-athletes with practical solutions as packages include:  
A consultation, customized plan, monthly check-ins, in-depth review and 24/7 access to your dietitian. 
Personalized snack/meal suggestions, smoothie recipes, supplement advice and weight management. 
A 'Nutrition 101' guide; explaining proper hydration techniques, inflammation reduction tips and healthy sleep habits.
Fuel your student-athletes' nutrition game by purchasing an option that best prepares them for elite academic and athletic success!