"The Athlete Academy is an academic and athletic training center for student-athletes who are committed to excelling both in the classroom and at their chosen sport. At Athlete Academy, we take an individualized and tailored approach for each student-athlete by using accredited academics and industry-leading sports thought leadership. To ensure that our student-athletes have a remarkable experience, our staff has created a safe, positive, competitive, and family-like environment that allows our student-athletes to reach their maximum potential. We are excited to partner with TPH and utilize their athlete-focused academic expertise and platforms for our student-athletes."
- Tiffany Hiedel, Academic Administrator, The Athlete Academy
STUDY
Academic support and facilitation are provided in partnership with Edmentum and TPH Academy.
TRAIN
Holistic strength and conditioning provided by The Athlete Academy. 
PLAY
Sport-specific training provided by The Athlete Academy.
Working with local academic support, we are able to offer a completely customized platform for each student-athlete. This flexible, mastery-based education program is delivered in a blended learning environment, one that combines distance learning with in-person, on-site academic support and facilitation. We provide a comprehensive program that includes academic coaching, best-in-class academics & a learning community that is focused on development.
The Academy blended learning environment combines an online curriculum with on-site infrastructure and academic support. Academic leaders are in the classroom working with students to ensure a positive learning environment, accountability, a personalized structure, and accelerated learning programs, as they train for their sport.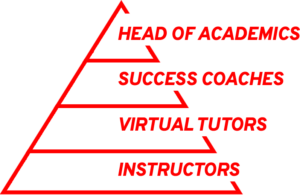 Our Academics include Ontario certified and NCAA-accredited courseware that can be completed 24/7, from any laptop, tablet or mobile device, as long as a high-speed data or internet connection is present
Our academic partners are all Cognia accredited and all graduating student-athletes will receive a private/public school diploma, issued by our state partner. Students not only advance their education, but learn organization, study skills, and how to adapt their own learning style.
+ Individually Tailored Courseware
+AP, Honors & Foreign Language Courses
80+ Custom Elective Courses
+  Credit for Sport-Specific Training
DESIGNED FOR STUDENT-ATHLETES
As our student-athlete pursue their maximum potential, our staff goes above and beyond for each student by taking the time to get to know each student on a personal level so that our staff understands our student athlete's expectations and aspirations. By coupling a new way of learning with in traditional class setting, cutting-edge training, and a one-of-a-kind environment. The Athlete Academy is proud to be setting the gold standard as we help our student-athletes achieve their academic, athletic, and personal goals.
The Athlete Academy is located in the Compete Center in Marietta, GA. The facility is a growing hub in the community and will feature best-in-class training for athletes in all sports. Conveniently located in Cobb County, just 20 minutes north of Atlanta, the area is home to many highly ranked academic institutions including Kennesaw State University and Georgia Tech. Marietta is a safe, centrally located, suburban town, and has been ranked amongst the best places to live in Georgia. Opened in the fall of 2019, the Compete Center is home to the Atlanta MadHatters Junior and Youth Hockey programs, Athlete Academy, The Ice Mavericks, adult rec leagues, public skating, figure skating, and more!
Connect with our team and learn how TPH Academy can help you or your student-athlete take the next step in academics, athletics, and life.