Data-Driven Insights Help Center of Excellence Students Reach Their Full Potential
September 10, 2021
/
/
Comments Off

on Data-Driven Insights Help Center of Excellence Students Reach Their Full Potential
Regardless of whether you are the Head of Hockey, Head of Academics, a Success Coach, or a parent of a Center of Excellence (CoE) student-athlete, you have probably noticed the benefits of collecting academic, athletic and wellness data for our student-athletes. 

The athlete management system (AMS), Kinduct, has helped supply all our CoE locations with technology that allows our staff to collect, analyze and monitor the development of our student-athletes. Entering its second year of use, Kinduct continues to obtain results from fitness testing, wellness and injury surveys, strength/speed/agility sessions, and even class attendance records. These numbers and valuable information have assisted the locations in better understanding their student-athletes in order to improve all aspects of the Study, Train, Play model.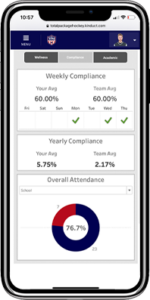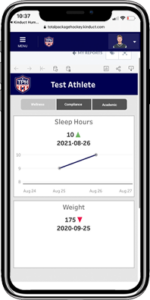 "We continue to be extremely impressed by Kinduct's technology and how it helps our athletes improve the quality of their training," TPH CEO, Nathan Bowen said. "We are committed to focusing on making our student-athletes the best versions of themselves, and thanks to our partnership we have actionable measurements to enhance all our athlete's performance and well-being." 
Athletic and academic scores for students have soared due to the tracking of individualized metrics for each athlete. Kinduct's key data analysis tools have helped TPH team members identify strengths and weaknesses, allowing tailored training programming to be delivered based on the athlete's unique skill sets. From there, daily benchmarks are monitored, and success plans are administered to support student-athletes both athletically and academically.
"We live in a data and technology driven world, and TPH is committed to using industry leading tools like Kinduct to help our team members, coaches and mentors, positively impact each student-athlete that attends The Center of Excellence," noted Jordan Pietrus, Executive Director, TPH-Colorado. "We have worked closely with Kinduct and studied how elite programs use data to create a system of two-way information sharing between students and TPH team members through the app. After data comes into the platform, our TPH team members are able to easily view key metrics and reports to help create mentoring moments with student-athletes, and ultimately drive development and performance." 
Reports within the Kinduct platform visualize data surrounding a student-athlete's stress levels, sleep data and even injury soreness levels. Having these insights readily available helps coaches and mentors take action and develop personalized plans for each student-athlete. 
Another significant benefit of the Kinduct app is the communication functionality student-athletes can receive emails or text messages daily from coaches that can be essential in communicating practice changes, drop-off times, or specific needs that student-athletes may need to know. 
Kinduct Customer Success Manager Sam Ross adds: "TPH came to us with a unique vision that aimed at blending together the limits of what our platform could do from all angles — performance, academics, and wellness. Having a system in place where each of those data streams could populate our platform simultaneously was a huge win, and we're looking for building upon that type of innovative mindset."
The partnership with Kinduct provides a competitive advantage for CoE aspiring-elite student-athletes to optimize their athletic potential while also aiding in education opportunities and individual wellness. With the help of Kinduct, TPH looks forward to continuing its mission of helping student-athletes reach their full potential.
To learn more about our Center of Excellence, click here.
---
About Kinduct
Kinduct's Athlete Management System (AMS) is used by over 500 teams, leagues, organizations, performance centres, military and healthcare organizations around the world. Kinduct have supported multiple world champions across the MLB, NHL, NBA, NFL, and NCAA as well as organizations that train the tactical athlete and those empowering the patient. Through our secure, cloud-based AMS, Kinduct consolidates a wide array of performance and injury data, improving workflow and optimizing performance for thousands of coaches, trainers, and athletes. Kinduct is also integrated with many world-leading wearables,